There seems to be an endless variety of photographic opportunities at Disneyland Paris: huge parade floats, beautifully themed buildings, dancers and performers, landscaped gardens, spectacular illuminations, fireworks and, of course, the Disney characters themselves.
The park is often open late into the evening too. This provides photographers a great opportunity to make the most of the golden hour when all the lights go on. Here's a few suggestions to get you started.
Prepare your backpack
As usual with photography, it's important to strike the right balance between carrying all the equipment needed, and not being so over-encumbered it ruins your day. Of course you will need your camera, favourite standard lens, spare batteries and memory cards. But, depending on what you are planning to photograph, you might also want to take a few extras such as: a telephoto zoom lens (for the parades), and a small tripod and remote shutter release (for night shots).
Your backpack should have lots of padding and protection to keep your camera equipment safe on all the rides.
Prepare a draft itinerary for your day
It might be useful to research the times and locations of the parades and shows your don't want to miss. This will help you to come up with an itinerary for your day, or a draft route through the parks. A programme is available on the Disneyland Paris website. Obviously your schedule will depend on what you really want to see and do, and how much time you have. Don't try to squeeze in too much, especially if you are only visiting for one day.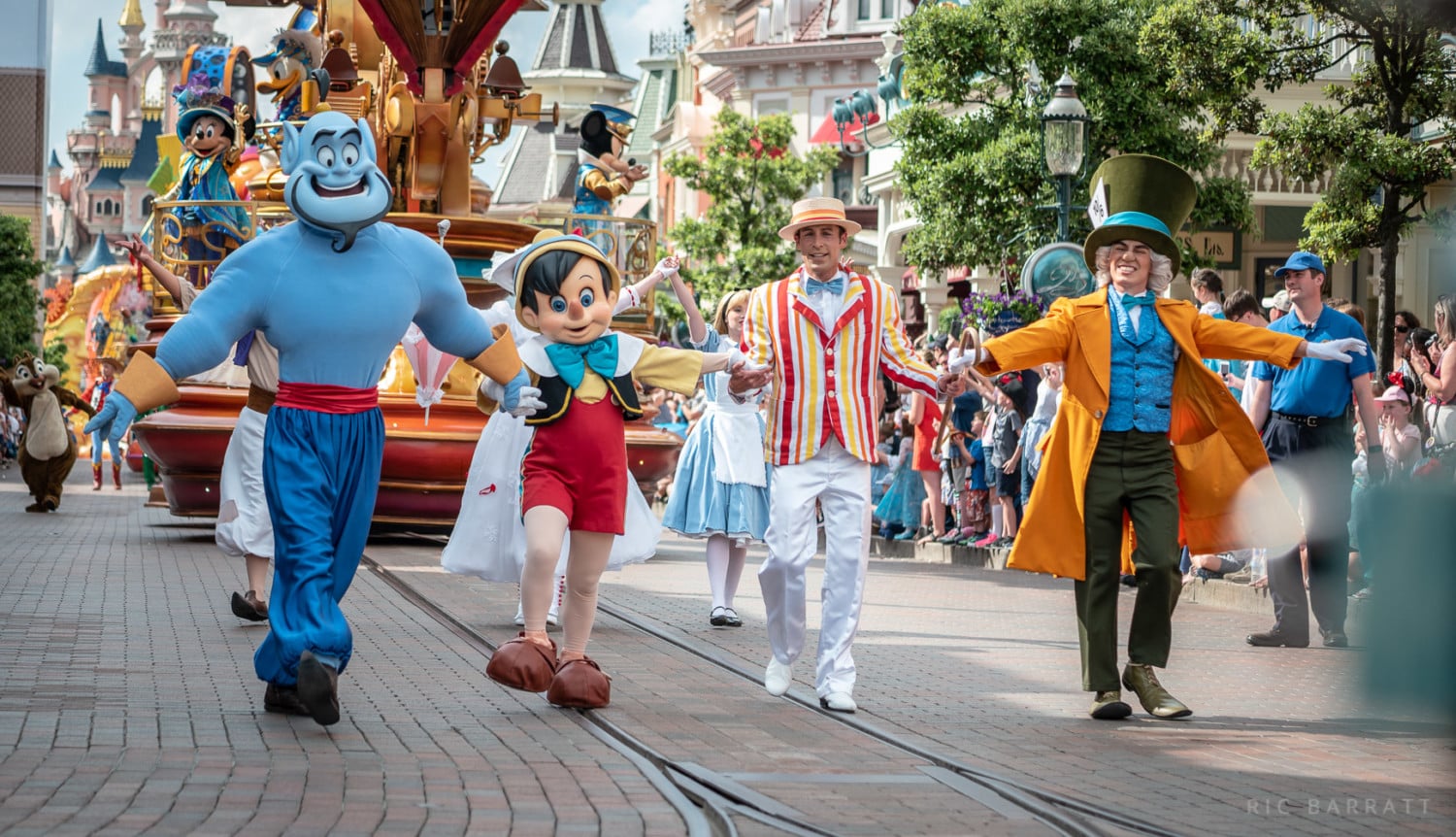 Use your camera's continuous shooting mode
Turn on your camera's continuous shooting mode. This means your camera will continue to take pictures whilst you are holding down the shutter release. This is perfect during the parades and shows as it increases the chances of getting the perfect shot. Of course, you will need to make sure your camera has lots of space for all the extra shots you will be taking!
Be aware: some rides don't allow bags
Disney staff usually allow medium-sized backpacks on most rides, but oversized bags are generally not permitted.
Some rides have stricter rules where no bags will be permitted at all. If you don't want to miss out on the fun you can either leave your bag with someone else in your party or in the baggage area. Alternatively you could return your camera to your hotel room or leave it with guest services at the entrance to the park (there is a small charge for this). Obviously there are risks with leaving your camera equipment anywhere, so you will need to decide what is acceptable to you.
Allow extra time for character meet-and-greets
Visitors wanting to meet Disney characters should prepare themselves for extra time queuing. During my visit the queue to meet Mickey Mouse was about an hour.
Also check you are permitted to use your camera before queuing to meet the characters. A few shots on a mobile phone is usually permitted, but you probably won't be allowed a full-on photo shoot with a large DSLR!
Keep your camera and equipment safe
There is plenty of opportunity for your camera equipment to be damaged during your visit to Disneyland Paris: getting knocked on rides or in crowds of people, or getting wet in bad weather or on water rides. Hold your camera tight and be aware of your surroundings at all times. Make sure you use a lens hood. When your camera isn't being used, replace the lens cap and return the camera to the safety of your bag. Also remember that theft can happen anywhere, even at Disney!
Be aware: most rides don't permit photography
Most indoor rides do not permit photography, and the low levels of light and constant motion would make it very difficult to capture worthwhile images anyway.
Some of the slower outdoor rides do allow photography. If you are unsure, look for signs near the entrances to the rides and along the queues, or ask a member of staff.
Remember that even some slower rides can have sudden movement and unexpected water splashes that could end up damaging your equipment.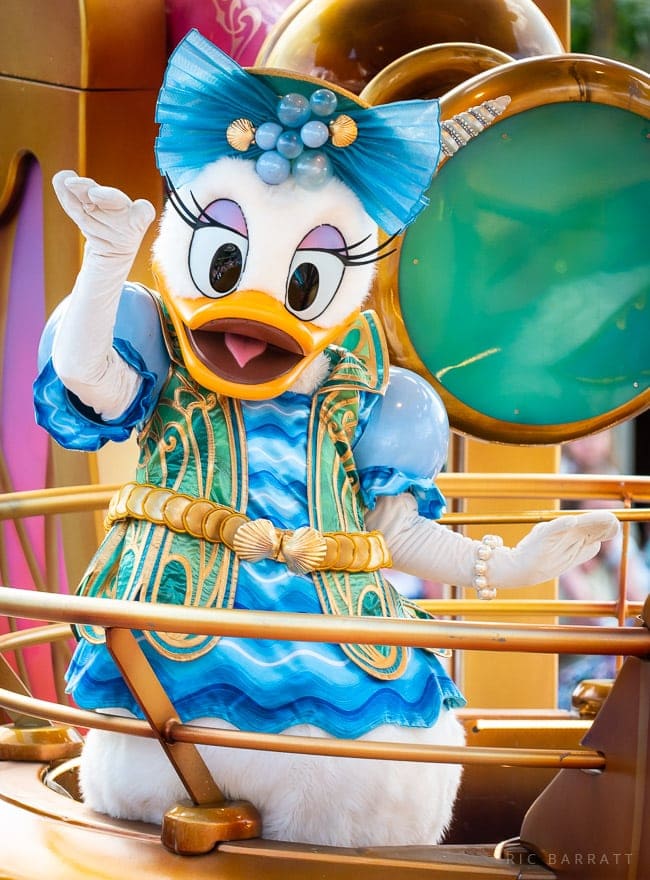 Take your place early for the parades and shows
If you want the best spots for the parades then it is best to arrive before they start. This will give you opportunity to decide where to stand to get the best view. If you aren't sure where the best viewpoint is then ask a staff member. They will be able to tell you which direction the parade will go in, or where the main bits of action happen.
Some parades are repeated throughout the day so, if you miss one, find out if there is another later.
Be aware: selfie sticks might not be permitted
I believe Disneyland Paris does not permit visitors to use selfie sticks in the parks (and certainly not during the illuminations show).
Take your place early for the illuminations show
The illuminations shows take place at the end of each day, just before the park closes. The shows are one of the main spectacles of any visit to Disneyland Paris, and shouldn't be missed!
As the illumination shows are very popular, visitors begin to take their places early. On my visit people started to get into position about 80 minutes before the start. If you want the best view then you will need to be early too!
The illuminations show can be amended or even cancelled, sometimes with very little notice, if the weather turns bad.
Make sure you know how to use your camera to take photographs of fireworks. If you aren't sure, do some research before your trip.
Be sensible with tripods
I asked a staff member about using my tripod during the illuminations show. They advised me to keep my tripod below waist height and I should be fine. Considering the thousands of people that descend upon central plaza for the show, the rules made sense, but they can obviously limit the number of places you can set up. If you do use a tripod then use common sense: keep it as low as possible for stability and make sure it won't trip anyone up. Keep a firm grip on your tripod and camera at all times.
Make the most of your day
With so many great photo opportunities at Disneyland Paris, it becomes easy to get carried away with taking photos. However, I would recommend budding photographers remember to put their camera away from time to time. Disneyland Paris is a wonderful place to visit with family and friends and it is worth experiencing the rides and attractions with your own eyes. I hope you have a wonderful visit!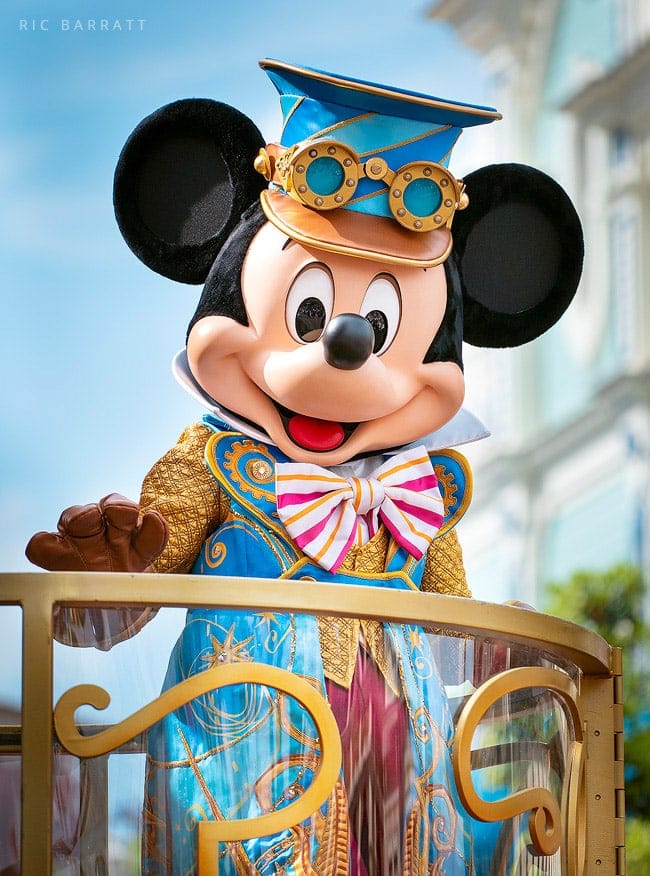 Disneyland Paris facts
Disneyland Paris opened on 12th April 1992. It was originally called EuroDisney.
It is the second Disney resort to open outside the USA (the other being in Tokyo, Japan).
The resort is the number one tourist destination in Europe.
The resort is equivalent to about 1/5 the size of Paris.
The Disney company originally wanted to build the resort in Spain due to the country's warmer climate, but the Paris location was eventually chosen due to its closer proximity to more people.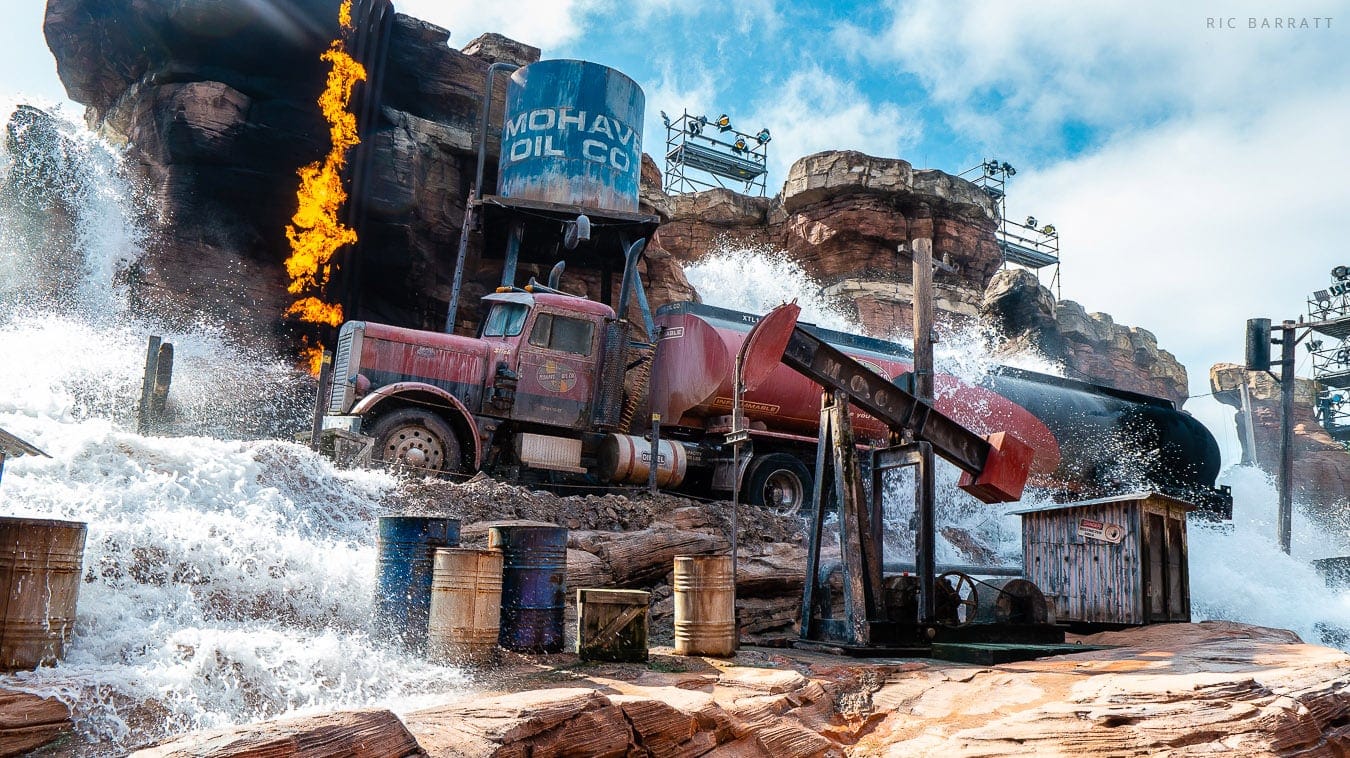 Photo opportunities not to be missed
Here are a few photo opportunities not to be missed at Disneyland Paris:
The Illuminations Show takes place each night before the Magic Kingdom closes. Take your spot in Central Plaza early to get a good viewing spot.
The Studio Tram Tour in the Walt Disney Studios provides an opportunity to get some great action shots of fire and water! Just hold on to your camera tight and be prepared to get your camera (and yourself) wet!
The Motors Action! Stunt Show in Walt Disney Studios is full of explosions and fast action car stunts.
Magic Kingdom parades. These take place throughout the day, mostly along Main Street USA and around Central Plaza. A great opportunity for photos of the favourite Disney characters.
Fantasia Gardens is a great spot to get some shots of the Disneyland Hotel.